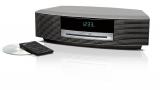 Bose music systems have a strong reputation for quality sound and easy-of-use. This product is no different. This model features an advanced FM/AM tuner...
Search the Best Deals on Easy to Use Music Players and Radios
Simply click on a listing to view more information and purchase one of the simplest CD players.